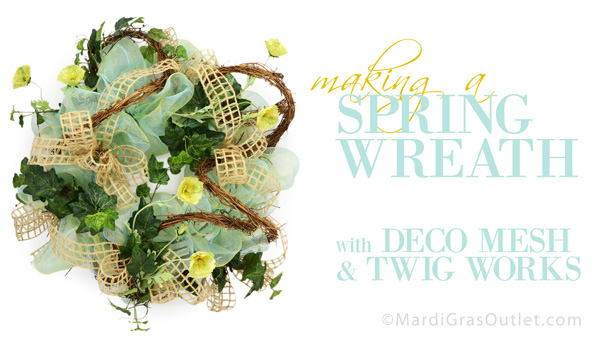 With the Easter wreath and decorations put away for the season, we know many of you are looking for a wreath design that can be displayed thru the summer. This Spring wreath is a good option. The DIY video tutorial featured below demonstrates how to make this everyday wreath using a new product- the twig-works wreath form. The pretty Spring wreath created in the video features a fresh turquoise/gold color scheme with natural textures of jute and grapevine garland woven in. The finishing touch is realistic-looking silk greenery and florals (ivy and poppies) that will stay fresh for the whole season.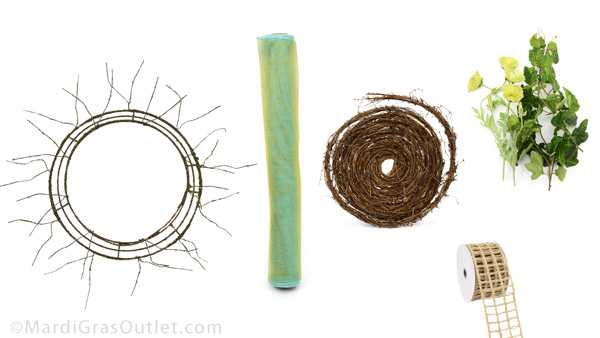 To purchase these products from www.mardigrasoutlet.com, click on the individual product link below or click
HERE
for a page listing all products
Deco poly mesh rolls, twig-works wreath forms, grapevine garland, ribbon and more are all available at
www.MardiGrasOutlet.com
. The total cost of the supplies for this wreath is just under $35, without any artificial greenery or flowers. This wreath takes less than one hour to create.
Here is the video tutorial using the twig works wreath form and supplies listed above:
Twig-works
wreath forms are made of moss green and brown wire that resemble twigs. They have pre-attached twig-like wire ties which makes creating a custom wreath with
deco mesh
simple. This popular natural look works well with grapevine garland, burlap, moss rope and ribbon. It also comes in
bigger sizes
and different shapes such as
oval
,
square
, a
cross
and even in
garland form
.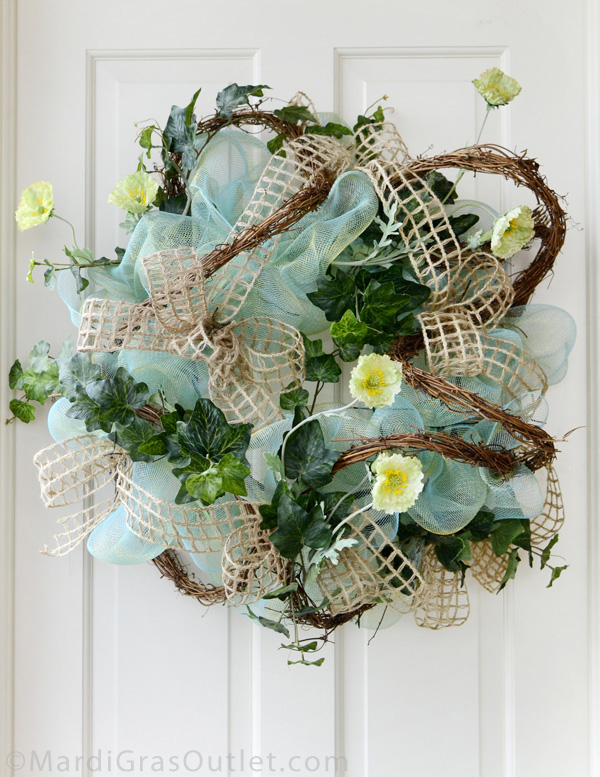 Twig-works wreath forms are similar to Work Wreath forms, which have wire ties that are covered in tinsel instead of a mossy twig texture.
*Please note: Twig works are measured by the true diameter of the work form, as opposed to the standard work forms that are measured by the completed wreath size. Therefore, this 15" twig works wreath is the same size as a 24" work wreath form.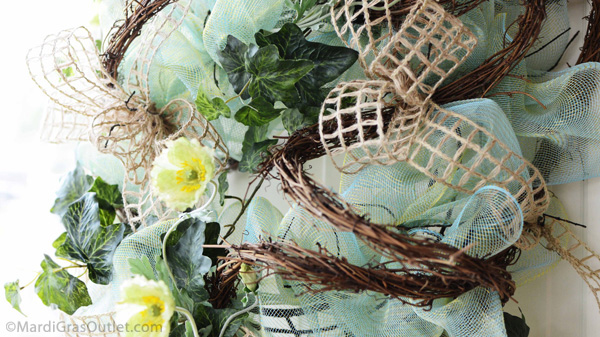 Poly Deco
Mesh is comes in many colors, patterns, sizes and finishes.
Click here
to see more options on colors and styles for your own personalized wreath.