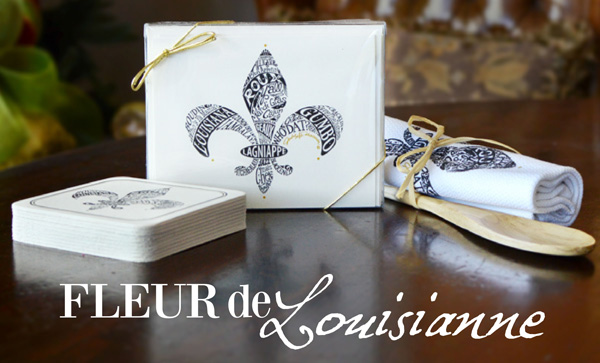 If you're from Louisiana or have ever lived here, you know that Louisiana loves Fleur de lis. By combining two loves- the Fleur De Lis and our unique culture, Fleur de Louisianne designs created the perfect gift for Louisiana. Whether you need a present for family and friends in Louisiana, visitors to the state, or just someone who has a sweet spot for our culture, these Louisiana themed gifts are sure to please.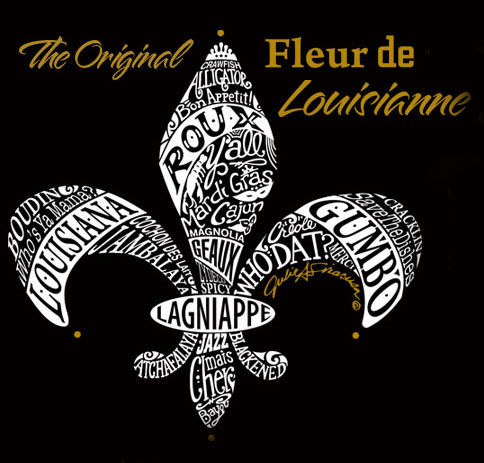 "
Fleur de Louisianne
" is a product line of gifts, kitchen accessories and stationary that features a hand-drawn fleur de lis design filled with Louisiana and Cajun cultural words and phrases. This pretty graphic includes Louisiana words like: lagniappe, Who's ya mama?, roux, who dat, y'all, Mardi Gras, Cajun, Geaux, boudin, Louisiana, jazz, creole, gumbo, merci and mais cher.
From the
creators
of "Fleur de Louisianne":
"Artist, Julie Siracusa has given the fleur de lis, the icon of Louisiana, a fresh look. Siracusa has always believed that keeping drawing alive in design keeps a human element present. By combining beautiful words that are unique to Louisiana in the shape of a fleur de lis the "Fleur de Louisianne" has come to life. Together, Julie Siracusa and Denise Landry have taken the "Fleur de Louisianne" from the drawing table to a great line of products."
The photograph at the top features the Fleur de Louisianne paper drink
coasters
,
note cards
and a gift set which includes a
kitchen towel and roux spoon
.
For those southern cooks out there, the Fleur de Louisianne product line also includes a
platter
,
oven mitt
and
kitchen towel
, as shown here.
Sculptural metal ornaments of fleur de lis and our
boot-shaped state
are prefect for the Christmas tree or as accents on a gift. Accent the neck of a nice bottle of wine with these pretty ornaments for two gifts in one- one to keep and one to enjoy!
Joyeaux Noel, cher!
Everything you have seen here is available at
MardiGrasOutlet.com
or in the links listed below:
Fleur de Louisianne Coasters
Stationary-Note Cards
Roux Spoon Gift Set
Oven Mitt
Kitchen Towel
Round Platter
Louisiana Ornament
Fleur de lis ornament
Louisianne ornament
Looking for even more Louisiana and Cajun themed gifts and party decorations?
Click here
!