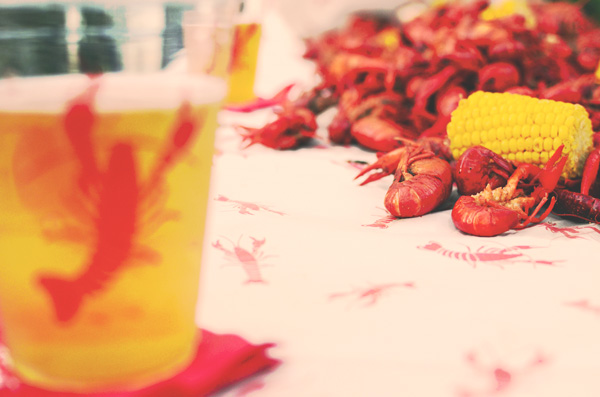 TABLE COVER: Crawfish Patterned Paper
Crawfish Print Paper
isn't just for replacing regular newspaper at your next crawfish boil party. It's also a great craft paper with which to create paper accordion fans to decorate the walls, fence, trees, tables and more!
Use the crawfish paper rosettes as a photo-booth background, garland, table centerpiece or even hanging from the trees for inexpensive outdoor party decorations. Read on for our simple tutorial with step-by-step instructions on making your next crawfish boil a FAN-tastic event!
PHOTO-BOOTH & PARTY BACKDROP
We used tape to attach the fans on a brick wall for a photo backdrop or for easy party atmosphere. If you are using a backyard fence or other wall, try small nails that go through each fan. Or, cover up an ugly wall with the crawfish pattern paper first. It's only 99 cents for a pack!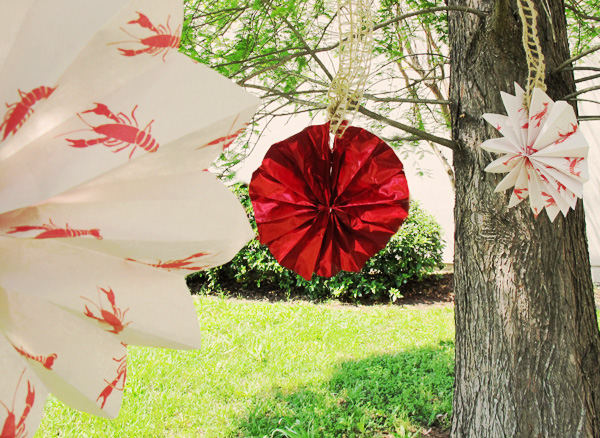 DRESSING UP THE TREES
SUPPLIES
To purchase these products from www.mardigrasoutlet.com, click on the individual product link below or click
HERE
for a page listing all products
Clear Tape or clear Double-Stick Tape
Stapler with staples
Scissors
Total cost for this project with both types of paper will be under $20.
A pack of ten 20" x 24" sheets
will only cost you about 99 cents. With a few other simple supplies such as a stapler, tape and scissors, you can start crafting your own low-cost crawfish-theme rosettes!
Visit our
Crawfish Boil Supplies Section
for more fun decorations, invitations and party supplies for your next crawfish boil!
Starting on one of the 20 inch sides, begin folding 1 sheet of Crawfish Newspaper back and forth at intervals of about 1 inch.
Once you fold the entire sheet, gather the folds and crease in half into a fan form.
Lay fan form long-ways and use a stapler to secure the center. Make the staple as parallel to the center crease as possible.
Refold fan.
Using scissors, cut across all ends of the folded fan at about a 45 degree angle to create a beveled edge. Make sure and remove about 2 inches of length from the end to create an appropriate ratio of height-to-width for the circular fan form.
With the trimmed fan form lying in a V shape, pinch together the two closest edges.
Attach the edge with two small pieces of clear tape from the outside or double stick tape from underneath. One piece of tape should be closer to the center, and one should be near the outer edge of the fan form to avoid gapping. You could also use glue to attach the fan edges. Just use a clip to keep them together until the glue dries.
Gather the opposite side of the form together, and tape the same way.
Admire the awesome fan you just made! Then get to making some more!
You can create variation in the fans by making them different sizes (just remember to maintain a ratio of about twice as long as it is wide), by cutting a scalloped edge in Step 2 or by cutting a variety of angled edges.
Also consider creating some fancy snips along the side of each fan fold during Step 2 to create a "Snow Flake" effect, as shown below.
To add some color and shine to the display, we made some of our fans using
Red Foil Paper
. You can purchase a 26" by 25' roll of red foil paper and a variety of other colors for just under $18 a roll here:
Foil Paper Rolls
.
Photo Booth Ideas:
Now you can attach the paper fans to a wall or fence for an easy photo background, or for a festive atmosphere.
For more photo booth backdrop ideas and how to set one up, check our our previous post:
DIY Photobooth Ideas
.
Spice up your boil photo shoot with some crawfish-themed props for your guests, as well.
Click below for a few suggestions: