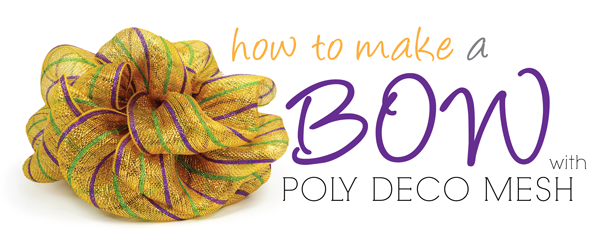 Versatile
poly deco mesh
is one of our favorite craft products because it can be used in endless applications. Wrap gifts, decorate for parties, create wreaths or garland. The sky is the limit with this fun mesh. Decorative poly mesh is also water proof so it is great for outdoor applications as well as indoor.
This synthetic deco-mesh fabric comes on rolls of various widths and lengths. The standard mesh size, we use in this video tutorial, is 21" wide by 10 yards (30 feet). A wide range of
colors and patterns
are available to match any color scheme or holiday theme.
One of the most basic ways to use poly deco mesh is to create bows. This short video tutorial shows how to create a large poly deco mesh bow out of the
Mardi Gras striped
poly deco mesh. With these basic instructions you can easily create designer quality bows perfect for gifts, wreaths, chairs and more!
For the complete selection of poly deco mesh products available, see:
Mardi Gras Outlet.com
For more ideas and tutorials using
poly deco mesh
, see all the deco mesh
POSTS
.
Click here
for all of our deco mesh
video tutorials
, including how to make a wreath, garland, wall tree and more!
We have also made a deco mesh bow using 10" wide deco mesh.
Click here
to see this new blog post.