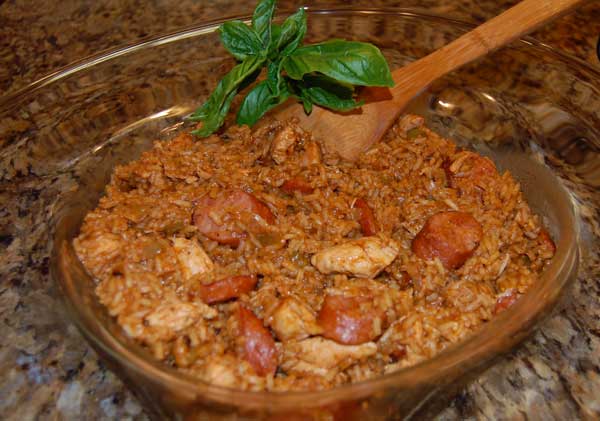 "Jambalaya and a crawfish pie and file' gumbo...
son of a gun, we'll have big fun on the bayou"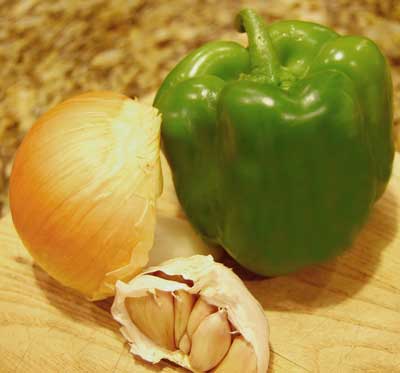 Jambalaya (pronounced: jum-buh-LIE-uh) is an easy delicious dish with a funny "sing song" name. Basically, Jambalaya is a spicy Cajun rice dish that starts with browned, seasoned meat and/or seafood. Then garlic, bell pepper, celery and onions are added. Some people add tomatoes; others are firmly against that. The recipe is finished off with rice and seasoned stock. All the ingredients simmer together until the rice is cooked. Each recipe for Jambalaya is as unique as the family that creates them. A combination of chicken and sausage (smoked Cajun style) is a common type of Jambalaya, but it can be made with seafood, fowl, beef or pork depending on personal preferences.
History of Jambalaya. There are many theories about where Jambalaya and the name originated. From Louisiana's French heritage, some hypothesis that jambalaya was originally prepared with ham, "jambon" in French, hence the name... Jambalaya. Others believe that this dish is a variation of the Spanish rice dish "paella". With Louisiana's rich cultural diversity it is hard to pinpoint the exact origin of this dish. Regardless, Jambalaya was created in Louisiana and is embraced by current cooks all over the south.
Jambalaya is an indispensable Louisiana dish
. You would be hard pressed to find a tailgate, Church/Parish* fair or school fundraiser that does not serve this rice dish.
Jambalaya
is perfect for such occasions because it can be made inexpensively in large batches and cooking a big batch is part of the fun. Large wash-tub sized cast iron jambalaya pots seasoned to perfection combined with man power, secret spice blends and a big wooden stirring paddles create steaming mounds of Jambalaya. Just as with the ritual of a crawfish boil, half the fun is the ritual of the individual recipe. Large jambalaya
cook-off events
are held around the south. There is even a
Jambalaya Festival
held in Gonzales, Louisiana. Samples of exotic and common jambalaya abound at these fun events. Bragging rights and/ or prizes go to the teams with the best pot of jambalaya.
*In Louisiana, we have parishes instead of counties.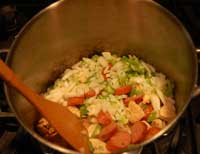 Traditional Jambalaya versus Jambalaya Mixes
. Traditional Jambalaya, although simple to make, takes lots of time to prepare and cook. If you do not want to go through the mess and time to make a huge pot of Jambalaya, there are different
Jambalaya Mixes
so you can create this Cajun dish at home. Just add your preferred type of seafood, meat or poultry and let the simmering spices fill your kitchen with home cooking warmth.
To see the whole assortment of Jambalaya mixes that Mardi Gras Outlet offers, see our
Jambalaya Mixes
or
Louisiana Food Mixes
page.
Being one not to take cooking shortcuts, I was originally sceptical of the boxed mix. But after trying
Mam Papaul's Jambalaya recipe mix
, I can recommend a boxed
Jambalaya mix
. It has a good balance of spice and seasoning (mild enough for my 7 year old, but spicy enough for my husband.) For the complete review, check out our post:
A review of Mam Papaul's Jambalaya Recipe Mix
. You will find "how to" descriptions and detailed photos of cooking
Mam Papaul's Jambalaya Mix
.
If you would prefer to cook
Jambalaya from scratch
, here is a great recipe inspired by Chef Paul Produmme original recipe. My version simplifies a few steps (i.e. making your own Creole spice blend).
Chicken and Smoked Sausage Jambalaya
Ingredients:
Creole Seasoning Blend (Tony Chachere's or Slap ya Mama)
2 whole bay leaves
2 tbsp unsalted butter
1/2 pound smoked sausage (apx 2 cups)
3/4 pound boneless chicken, cut up into bite size pieces (apx 2 cups)
1 cup onion chopped
1 cup celery chopped
1 cup green bell pepper chopped
1 tbsp garlic minced
1/2 cup canned tomato sauce
1 cup chopped tomatoes
2 1/2 cups Basic Chicken Stock
1 1/2 cups uncooked rice
Directions:
Heat large stock pot, dutch oven or cast iron pot on medium- high to high heat. Add butter and melt.
Add sausage to pan and saute until sausage browns slightly.
Add chicken. Season with creole seasoning. Stir frequently. Cook until the chicken is completely done.
Add vegetables (onion, bell pepper, celery, and garlic.) Cook until these vegetables are tender.
Add tomato sauce and chopped tomatoes. Stir all the ingredients together.
Stir in stock and rice. Add bay leaves. Mix well. Make sure to scrape the bottom of the pan.(These browned/seasoned bits are the good part.)
Lower heat to low/simmer. Cook for 1 hour or more until the rice in tender. Stir infrequently.
Remove the bay leaves and serve.
So whether you create your
Jambalaya
from scratch or make it from a box mix, know that you are enjoying a completely unique Louisiana dish!
Bon Appetit!