Here is the tutorial for creating on of these fun candy cane door decorations. We made two versions of the candy cane.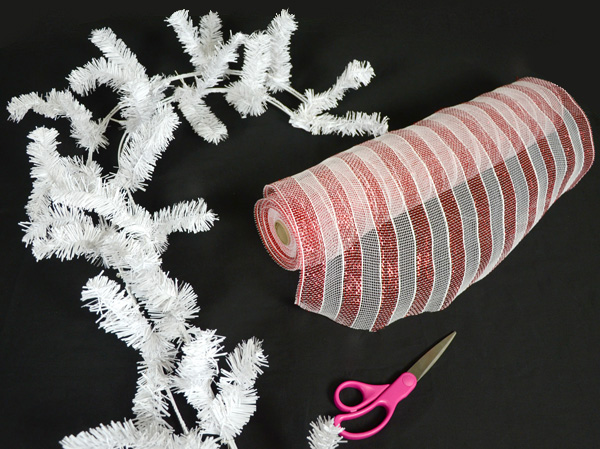 WHITE STRIPED CANDY CANE SUPPLIES
21" Red/White Stripe deco mesh
(1 10 yd roll)
30" Work White Candy Cane form
(1)
Scissors
*
Optional Bow: 2.5" Red Poly Mesh Ribbon and Metallic Red Deco Flex Tubing Ribbon
Scissors
*Optional Bow:
2.5" Metallic Green ribbon
,
4" Metallic Moss/Lime Ribbon
,
Craft Wire
Bunch the mesh into one hand, folding as you gather. Place the bunched mesh into the very bottom set of tinsel covered wire ties. Notice how we left the end facing inward (second photo) so that the frayed end will not be hanging out. Twist the ties firmly to secure the mesh.
Continue this way all the way up the work form. Go back and forth and remember to fold the mesh over to the opposite set of wire ties, covering the previous set.
When you reach the top end of the work form, attach the mesh to the end set of ties. Fold the mesh back over and secure to the right set of ties. Trim the mesh with about 10" left. Fold over and attach the end of the mesh to the end set of ties. This way, the trimmed end of the mesh is hidden underneath the last puff.
Deco mesh comes in many colors, patterns and sizes so that you can customize your Christmas decorations.