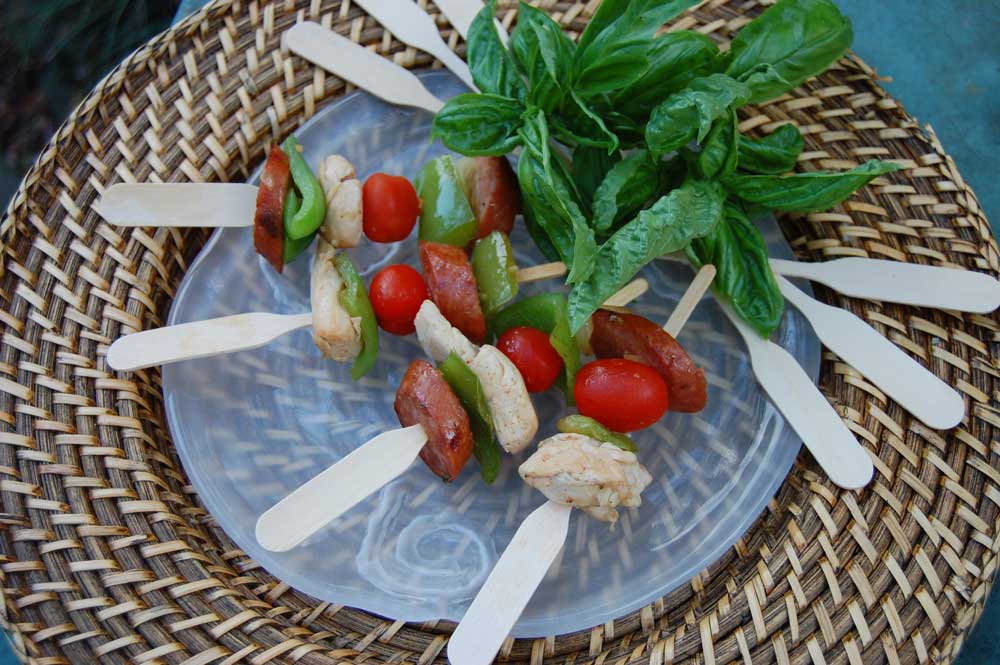 Food on a stick is always a hit at parties. Inspired by my recent post on
Jambalaya
and these cute
wooden paddle stirrers
, I created this fun appetizer with all the basic ingredients in
Jambalaya
. There is no rice in this dish unlike traditional Jambalaya. The Jambalaya Paddles could be served on a bed of seasoned rice. Regardless, these spicy
Jambalaya Paddle
appetizers embrace the essential flavors in jambalaya. A perfect Creole party food!
Here is the recipe and "how to" for this pretty and delicious Jambalaya appetizer.
Jambalaya Paddles
Ingredients
1/2 pound chicken -cut into bite size pieces
1/2 pound smoked sausage*- sliced
12 cherry/grape tomatoes
1 bell pepper, sliced into bite size pieces
1 onion, sliced into bite size pieces
Tony Chachere
or
Slap Ya Mama seasoning
Wooden stirrer paddles
Directions:
Just as I do when making traditional
Jambalaya
, I start by adding a small amount of oil to the bottom of a dutch oven
(just enough so the sausage will not stick to the pan).
Heat on medium-high. Saute sausage* in the pan. The sausage will render some fat and seasoning to help season/saute the other ingredients. *
I used a milder green onion based smoked Cajun sausage from Manda, but any smoked Cajun sausage will work.
Add chicken pieces to the pan. Season thoroughly with
Tony Chachere's
or
Slap ya mama creole seasoning
. Saute this mixture until chicken is fully cooked.
Add sliced bell pepper and onion. Saute until tender. You want them softened, but not mushy so you can thread them on the paddle. Do not cook the tomatoes.
Remove pan from heat. Let cool down. Once the ingredients are cool enough to handle, thread each on a
wooden paddle stick
assorting chicken, bell pepper, tomato, sausage and onion.
Arrange paddles on a platter and serve. (
I garnished the platter with some fresh basil.)
This could be made in advance. I would cook the sausage/chicken completely. Cook the vegetables slightly, then reheat everything and thread them on the paddles right before the party.
These Jambalaya Paddle appetizers would be perfect for a Louisiana-Cajun themed event or a Mardi Gras party. Let me know what you think of this dish.
I hope it is a crowd pleaser!