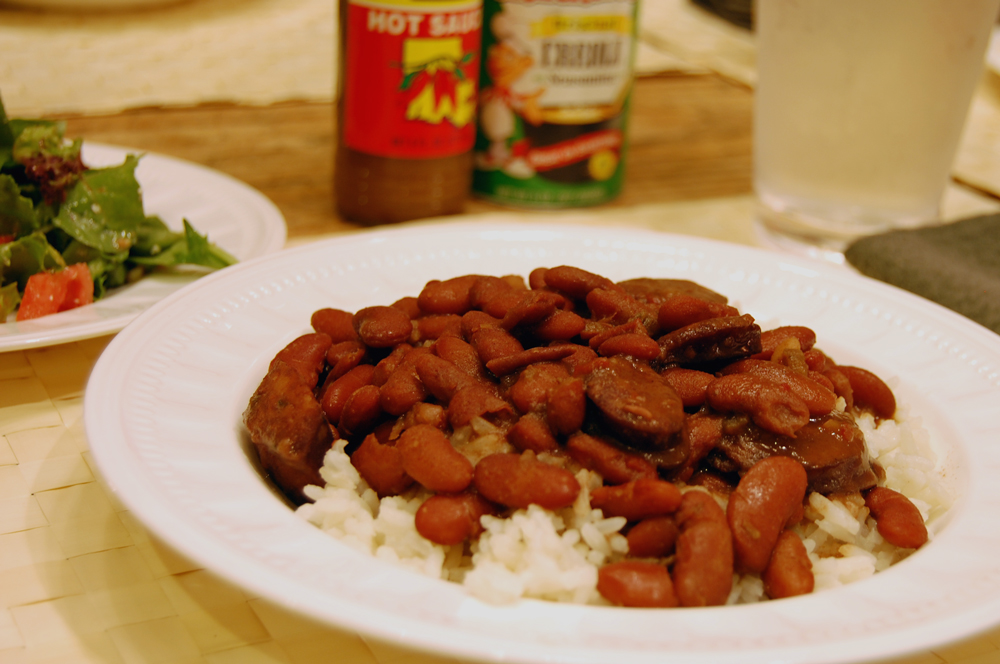 Red beans and rice is a Monday tradition in Louisiana
. Red beans and rice is a simple dish (everyone, everywhere eats beans), but southern style red beans and rice is full of Louisiana flavor and so evocative of home cooked Creole comfort food. It is both creamy and hearty with nice Louisiana spice!
All over south Louisiana, particularly New Orleans, red beans and rice is cooked and served on Mondays. I am sure it is served on other days, too. But tradition dictates it is served on Mondays. The plate lunch special around town and dinner at my house is sure to be red beans and rice on Monday.
The folk tale behind Red Beans and Rice:
"On Dit Que" (it is said that) the tradition of red beans and rice as the customary meal for Mondays evolved because of laundry day. Wash day, long ago, took all day (thankfully this is not always the case anymore.) For the mommas to be able to wash all day and have supper on the table that night, they needed hearty meals that could cook all day with little help from the chef. An easy solution was to use what they had on hand...a big pot filled with the favorite Creole seasoning vegetables (the trinity: bell pepper, onion and celery), the ham-bone from Sunday dinner and a pound or so of red beans. This pot could be left to simmer all day. TADA! Creamy, hearty Red Beans and Rice was born!
About Red Beans and Rice
This delicious pot of red beans is traditionally served over white rice with a portion of salted meat served either on top, mixed in or on the side. The beans in red beans and rice are said to have been brought to Louisiana from the Caribbean. The rice portion of this meal is easy to trace. South Louisiana is filled with rice fields. It is one of Louisiana's core crops. A lesser known version of red beans and rice is white beans and rice. Same creamy bean dish served over rice, just substitute white beans for the red beans.
Red Beans and rice is made with salted meat used to flavor the beans. A big hunk of ham will work. A large ham bone is even better. Need something to do with the ham bone left over from Christmas? Making a big pot of red beans and rice is a great option. Sauteed down with simmering vegetables and water, a ham bone packs a lot of flavor. Sausage or pork chops are also served with red beans and rice. A common way to see red beans and rice served and the way I like my red beans and rice is with sausage (either whole links or slices.)
How to make Red Beans and Rice
No matter what meat you choose, the key to good red beans is a creamy texture. Crunchy beans are a No-No! The key to this creamy texture is cooking them for a long time. An option to help reduce the cooking time is to soak the beans overnight. Even if you only have time to soak for a few hours, the beans will soften considerably. I usually soak the red beans for most of the day and then put the beans on to cook in the early afternoon. Cooking red beans (the cooking time) is not an exact science. Some beans need longer, others cook faster. This is a dried product. As with most Creole dishes, the longer it cooks, the better it will taste. You are aiming for the beans to be creamy, but not so mushy they disappear. This sounds complicated. Please don't be intimidated…after all this dish was invented for hard work laundry day. It is definitely easy enough for modern cooks! So here is how I make my red beans and rice...on Mondays of course.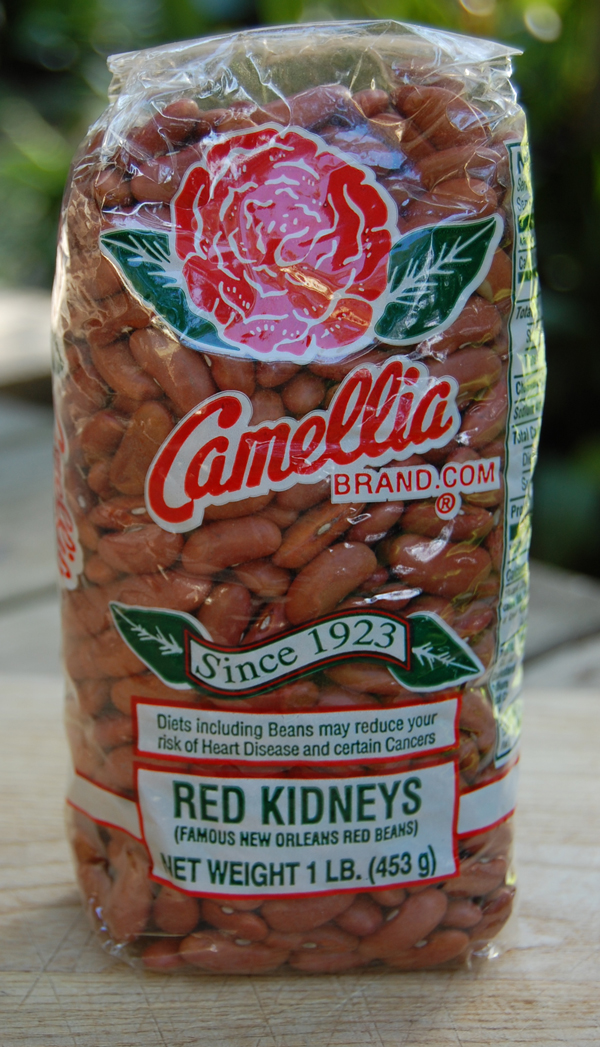 Ingredients
1 medium onion-finely chopped
1green bell pepper- finely chopped
2-3 stalks celery- finely chopped
garlic- finely minced
Parsley
White Rice
Creole Seasoning
Bay leaves
hot sauce
1 pound smoked sausage/ham
1 pound New Orleans style Red Beans
Directions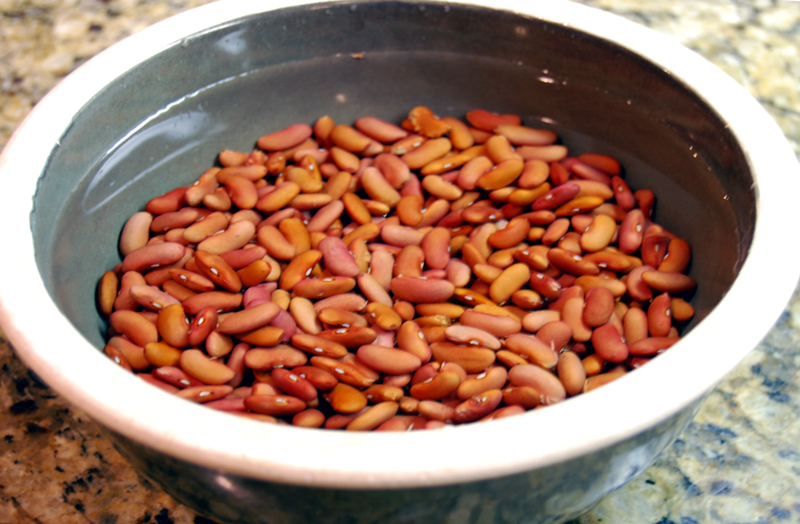 Sort and rinse the red beans.
(This just means to sort through the beans and throw out anything other than red beans. Also cull any beans that look bad.)
Put the beans in a large bowl. Cover the beans with ample water. The beans will expand and soak up water as they sit so make sure there is enough water in the bowl to keep them covered.
Let the beans soak over-night or all day. Add more water to the bowl as needed.
When you are ready cook, drain and rinse the beans again.
In a large dutch-oven style pot, turn the heat on medium high on stove top.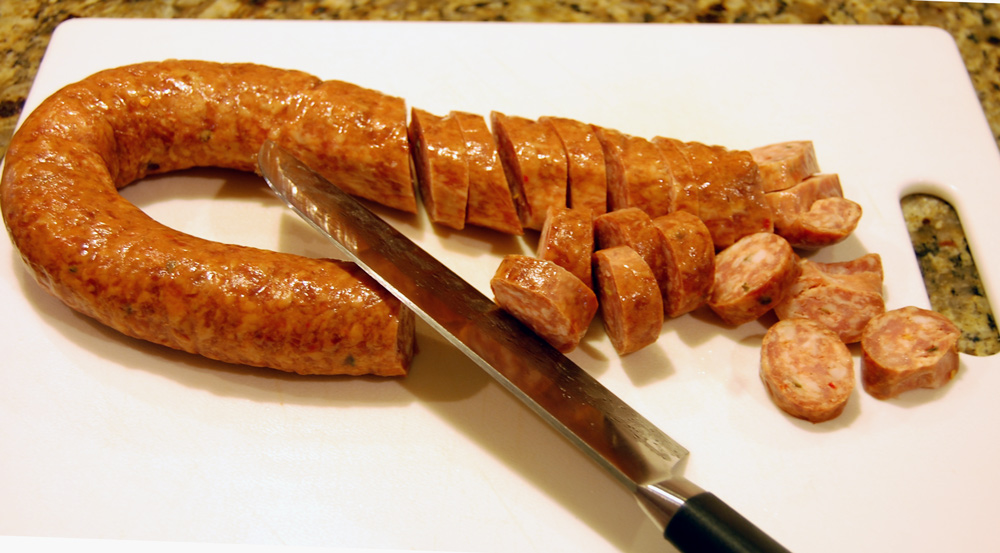 Saute your preferred meat. Your goal here is to have the meat render some of its fat and seasoning. I like sausage as my seasoning meat. I slice about half of the sausage and I save a few longer link pieces of sausage to serve on top of the red beans. All of the sausage is sauteed until browned. The links are removed from the pan; the slices stay in. If you are using ham, leave it in the pot to flavor with beans.
Add finely chopped vegetables (garlic, onion, bell pepper, celery) to the pan. Saute until tender and softened. The vegetables will continue to cook with the beans.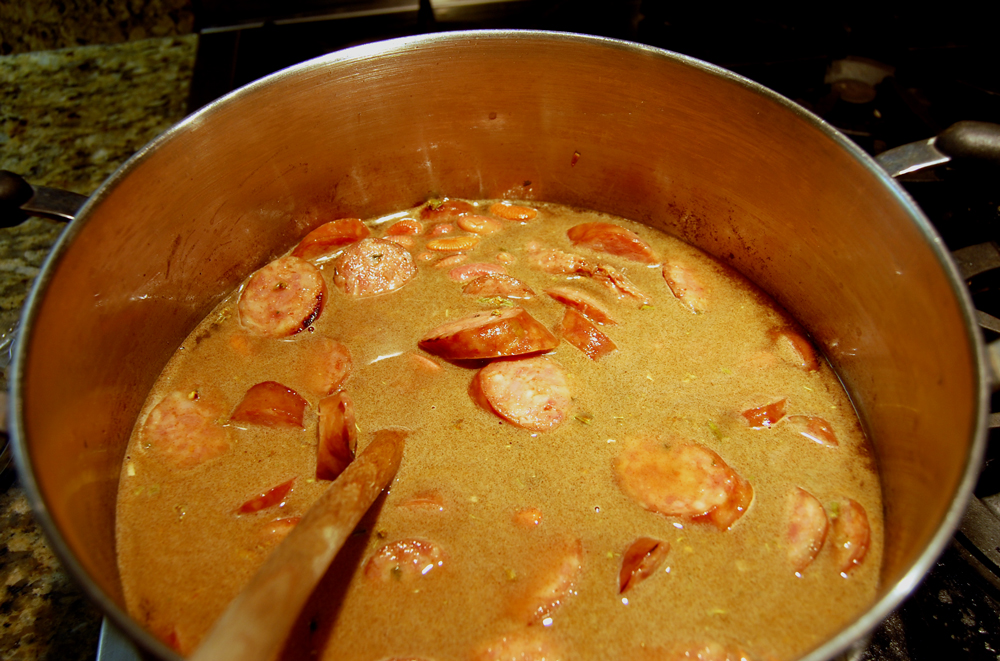 Add bay leaves, red beans, creole seasoning and enough water to cover these ingredients in the pot. Lower the heat down to medium-high. Boil gently for 1 1/2 -2 hours or until beans are tender and creamy. Add water as needed while cooking to keep beans covered.
When beans have been cooking for 1 1/2 hours, add chopped parsley to red bean mixture. If the liquid the beans are cooking in is not creamy enough and the beans are cooked, take a few beans out of the pot. Mush these up. Add them back to the stock to help thicken the sauce.
Cook the white rice.
When both rice and beans are done, remove bay leaves from beans and serve red beans over a pile of white rice.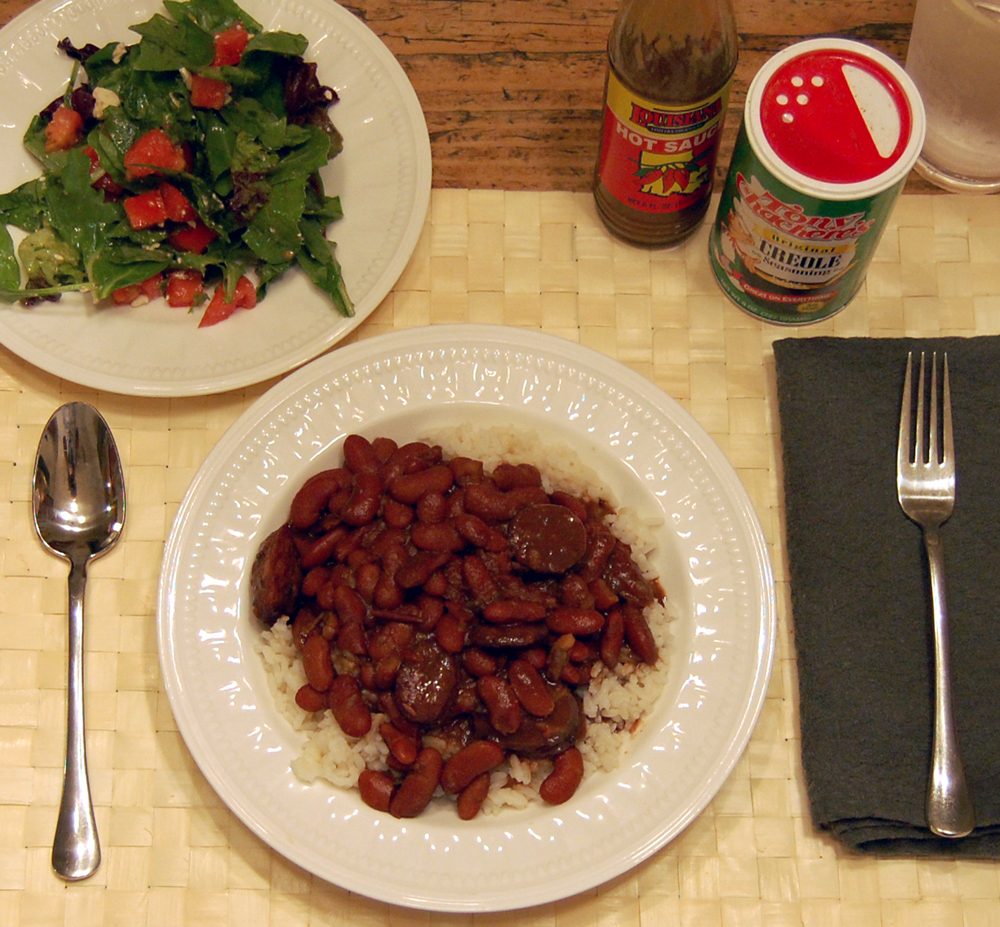 Corn bread and a simple green salad are a great accompaniments to Red Beans and Rice. My husband likes his corn bread crumbled on the top.
Don't forget your favorite
Louisiana hot sauce
, to spice red beans up for those who like it hot!
Extra red beans can be frozen if you have left-overs. This recipe does makes a large pot!
Bon Appetite!
For fool-proof red beans and rice, try
Mam Papaul's Red Beans and Rice seasoning blend
. The box contains all the secret ingredients for a good pot of red beans. You just need to provide the beans, salted meat and cooked white rice!