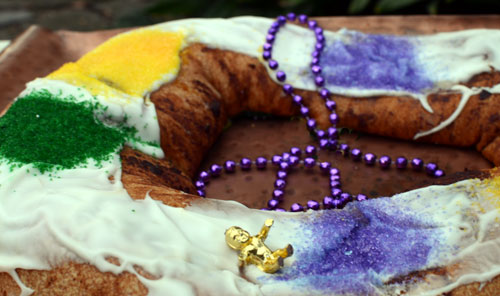 Carnival season officially begins today on Epiphany. Mardi Gras Krewes host parties to start off the fun. The tradition of King Cakes served at both offices and homes alike begins today as well. With Mardi Gras, Fat Tuesday, on March 8th this year, we look forward to many weeks of Mardi Gras fun in 2011.
Epiphany and what it means to Mardi Gras
Even though most of the themes surrounding Mardi Gras involve Bacchanalian pursuits like eating, drinking, and throwing things (beads and parade throws), the true basis of Mardi Gras is grounded in religion. The Carnival season is dictated by dates on the church calendar. The start of the carnival season each year is signaled by 12th Night or Epiphany. Epiphany is the 12th day after Christmas, the day the three kings bearing gifts arrived to the Christ child. Some people believe that the true 12 days of Christmas (as in the Christmas carol) were intended to be these 12 days after Christmas leading up to Epiphany.
Carnival Season 2011
The start of Carnival is always on Epiphany (a date that does not change), but the date of "Fat Tuesday" or Mardi Gras changes each year because the end of carnival is signaled by another date on the church calendar, Lent. Lent is the six weeks leading up until Easter. With the date of Easter changing each year, the date of the start of Lent and end of Mardi Gras changes as well. The Mardi Gras season is extra long this year with Fat Tuesday falling on March 8th. Mardi Gras is usually in the month of February. It is unusual for is to be as late as March. This gives us more weeks in the carnival season this year and more time to celebrate Mardi Gras 2011.
In honor of Epiphany and the beginning of carnival, celebrate with a
king cake party
. What a perfect way to usher in Mardi Gras 2011...
king cake
and New Orleans chicory
coffee
.